No results were found for the filter!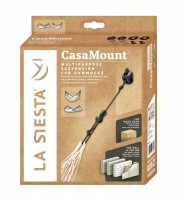 Fixing Set for hammocks Casa Mount
Multipurpose suspension set for installation of all sorts of hammocks on walls,ceilings or wooden beams. The CASA MOUNT allows you to easily suspend or remove your hammock. The hooks can be installed using everyday tools and are suitable...
Fixing Set for Hammocks TreeMount
Tree Rope: Suspension set for flexible installation between trees, round beams or poles. Thanks to the tree-friendly 40 mm wide straps you can use your hammock in a responsible way. The TreeMount set allows the easy suspension or removal...
Adventure Hammock Rope Set
The totally light and compact rope set for when you are on the move Along with the handy peg supplied with them, the ropes weigh no more than 90 grams, but they can support a weight of 150 kilos! Thanks to the high-tech material of which...
Microrope Hammock Suspension Set
The light and strong rope set for travelling The two pre-knotted ropes and the handy holding pin altogether weigh a mere 180 g, but carry 150 kg! The locking pin made from aluminium lets you adjust the rope quickly and serves as a...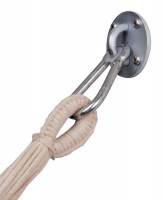 Easy+ Hammock Hook
This hook was developed specifically for the suspension of hammocks on the wall. The hammock easily and securely clips into the snap hook. Thanks to the integrated plastic guide, you smoothly and quietly float off into dreamland....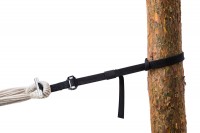 T-Strap Hammock Suspension Tree Set
Set of 2 specially developed attachment straps for hanging up hammocks. The locking pin made from aluminium serves as a practical connection to the hammock loop at the same time – push it through and it will put itself diagonally and...
Profi Rope Hammock Suspension Set
Accessories for attaching all hammocks to trees and other designed and suitable structures. This fixing set is especially designed for hammocks and allows mounting completely independent of any hooks or screws! Just wrap the rope around...